Consistent development of new application algorithms, libraries, software and hardware mean our automatic optical inspection equipment is ready for the next generation of SMT technologies.
Here's a guide that expands on key elements of our AOI technology so that you can familiarize yourself with some of the terms that we use:
Mek 24-bit Colour Graphics Processing
Colour is effectively used in the electronics manufacturing industry for inspection of components, PCB's and PCB finishing's, as well as light sources from the AOI machine itself, which reflect off different surfaces providing valuable inspection information.
All Mek AOI machines use 24-bit colour graphics processing providing more information per pixel for deeper calculations, thus improved inspection. The system transforms the colour information per pixel into several other colour domains where colours are distributed logically for a specific inspection. This results in reduced false defects while maintaining high defect detection rate compared to greyscale systems. Remember, not every colour camera system also calculates in colour!
More information per pixel: deeper inspection
Comfortable Operator Environment
Reliable detection of printing errors on OSP or Gold PCBs
Check colours of components
Reduced false defects compared to greyscale systems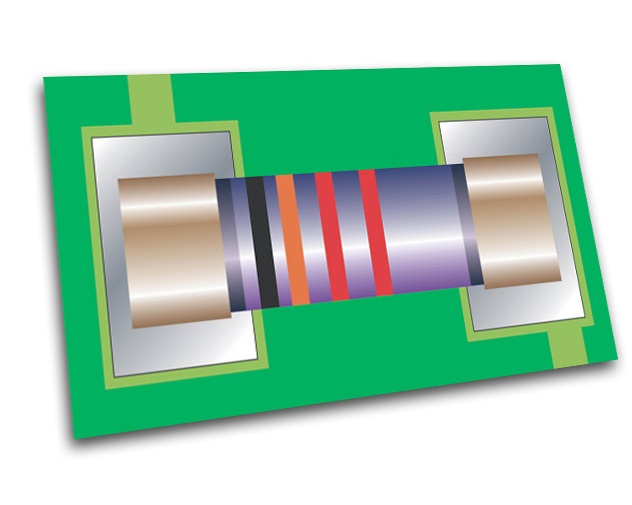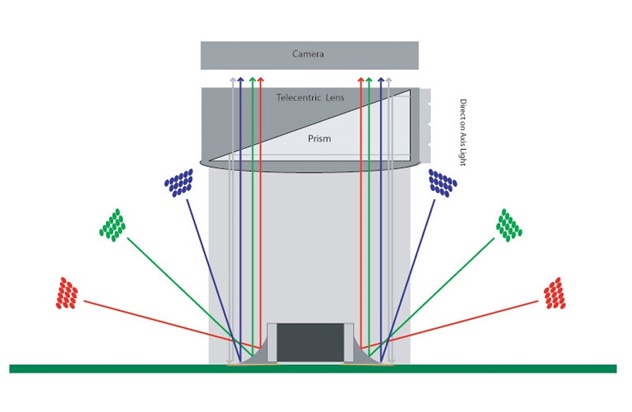 Verification by Meniscus Profile
Multi-Colour, multi-angle lighting visualises the solder joint shape in 3D projection. By analysing the reflections, quality of the solder joint can be determined. The shadow free illumination by the perpendicular lighting system and other omnidirectional lighting systems ensure solder joint quality inspection of any shape and height of any component orientation.
Solder joints verification by meniscus profile
Multi-Colour multi-angle lighting visualises solder joint shape in 3D projection
Eliminates need for angular cameras and warp compensation
Instant switching between lead and lead-free technology
Shadow free illumination by perpendicular lighting system
Mek 9 camera AOI technology for optimal visualisation of PCBs
Mek Automated Optical inspection equipment with 9 cameras deliver full visual coverage of components from the side. Generally, side cameras are being used to replace microscopes for defect verification, but Mek side cameras are also able to automatically inspect components and find defects.
To keep inspection times to a minimum, 8 side view capturing sensors are active simultaneously. The exact 45⁰ angled wide view provides visual access to points that were previously thought impossible to view.
Mek side view sensors provide high quality images to aid operators in the defects classification process, thus minimising human mistakes. Those same images are stored in a database.
Imagine all your PCB's virtually in your hands with 8x views of every single component in microscopic 50x magnification!
1 Orthogonal Sensor & 8 Side capturing sensors in 45/45 arrangement
Simultaneous operation of all cameras
Triple use of side cameras: Inspection, Classification, Repair
Auto 8-Channel 50x Microscope for visualisation of defects
10µm Side Capturing Resolution
Fits 45-degree PCB designs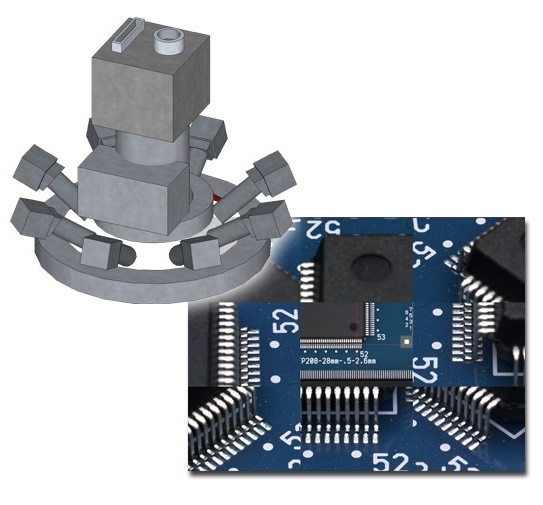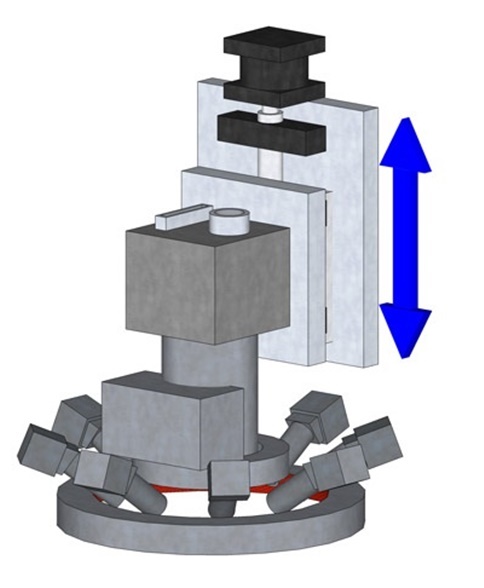 Mek Motorised Z Axis
Typically AOI systems have their optimal focus point at the surface level of the PCB assembly. Due to the focal range of the lenses used, the image is adequately sharp for a few mm's above and below the optimal focus point. If the object is further away, the image is out of focus and inspection algorithms may have difficulty inspecting such objects reliably.
To secure optimally focused objects, most Mek AOI machines are equipped with a motorised height adjustment system for the optical head (Z-axis adjustment). This system can move the complete inspection head, including the lighting system, to bring objects optimally into focus. This allows inspection of objects at different height levels such as sandwiched PCB's, tall components or positional measurement of tall connector pins.
An autofocus system can adjust focus automatically if height variations are caused by different PCB heights or warped PCB's. Inspection of PCB's inside carrying jigs can be easily brought to optimal inspection heights without the need to accurately optimize custom-made jigs for the AOI system.
AOI machines equipped with side cameras benefit further from a motorised Z axis. Due to the angled view on objects, the inspection position in the FoV (Field of View) depends on the vertical position of the object to be inspected. If the vertical position changes, e.g. due to varying PCB thicknesses, PCB warpage or differing component heights, the inspection location would need to be adapted accordingly. The motorised Z axis compensates for the change in position automatically, without the need to adjust the inspection programs.
Motorised Z-axis for inspection at different vertical levels
Manual focus for inspection of sandwich assemblies
Autofocus for automatic height adjustment on specific regions of interest
Vertical adjustment range up to 60mm depending on model
Smooth repositioning of side camera inspection frames when vertical position changes
Mek Side Cameras equipped with Tilt-Shift Optics
Objects viewed with an angular camera and conventional optics, typically show geometrical distortion across the Field of View, caused by varying distances from the camera sensor. Typically objects further away from the sensor appear smaller than objects closer to the sensor.
In Automated Optical Inspection (AOI) this is an undesired characteristic because inspection strategies and parameters are preferably kept identical, regardless of camera distance.
Focal range is also preferred to be constant for the whole Field of View to allow the same object inspection parameters regardless of the position in the Field of View.
Mek has overcome both these challenges in their AOI equipment by the use of customised Tilt-Shift optical technology. Across the whole field of view of the side cameras, both distortion and de-focus are reduced to increase inspection depth and stability.
Side Cameras equipped with Tilt-Shift Optics
Optimal distortion free and sharp side camera images across the complete Field of View
Constant focus of the complete Field of View
Elimination of optical distortion of objects at different distances from the camera
Constant inspection paramaters across the Field of View