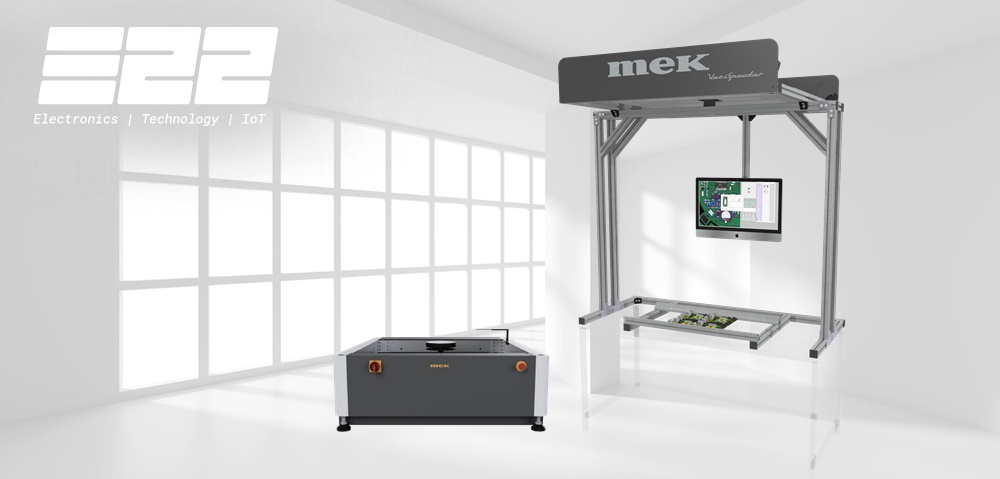 Denmark's biggest electronics fair, E22, is back in 2022 – and we'll be there!
We'll be exhibiting at the show at the Odense Congress Center with our distributor for Denmark, Eltraco, from August 30 – September 1.
On display will be the VeriSpector Assembly Station AOI for use on manual and semi-automated SMD and THT assembly stations. With extremely short inspection times ( < 5 sec ) the VeriSpector AOI system allows manufacturers to perform real time assembly and placement inspection, carry out repairs on the fly and prevent defects before they move into the next process.
We'll also be showing the SpectorBOX Bottom Up AOI system (GTAz) + SpectorBOX Top Down AOI (JUz) inside the Nutek main frame which allows easy integration into the production line. The Nutek main frame is a highly cost effective way to combine Bottom-Up and Top-Down inspection enabling double sided inspection.
The Mek SpectorBOX modular Bottom-Up AOI system is optimized for the inspection of THT solder joints and the detection of solder bridges and solder balls, whilst the SpectorBOX Top-Down AOI system is designed for the inspection of THT assemblies and inserted through hole components, and will detect any visual defect such as component presence/absence, wrong polarity, colour, type, bent pins etc.
SpectorBOX AOI is the only modular AOI in the market that can be equipped with 9 cameras: 1 main camera and 8 side cameras.
The return of E22 is long awaited and we're excited to be again getting the chance to meet up with customers and fellow exhibitors in this part of the world.
We look forward to seeing you there! You can find us on Stand A1847.