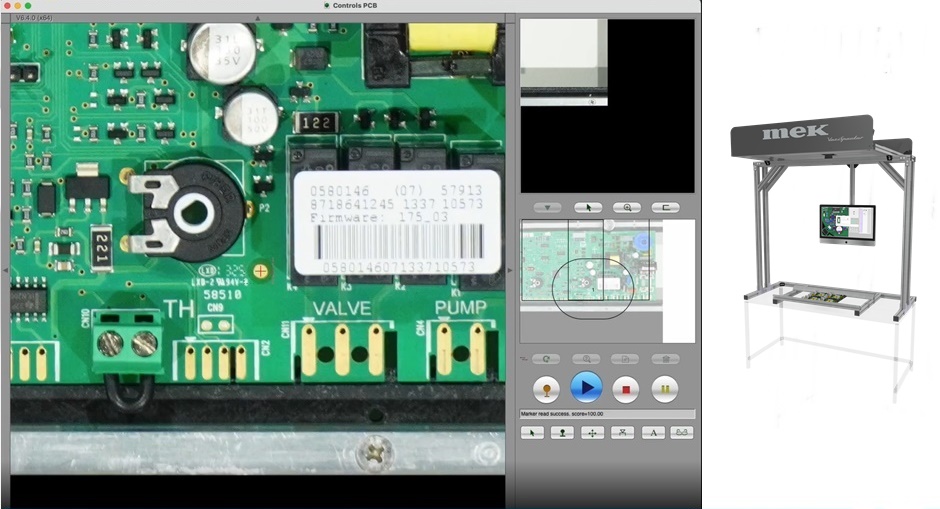 Crafted by our team of experienced engineers, VeriSpector is a powerful, extremely affordable, assembly station AOI for use on manual and semi-automated SMD and THT assembly stations. 
 We officially launched the VeriSpector manual assembly AOI at Productronica 2021 to abundant interest and excitement. We quickly knew that this AOI system was destined to be a great success, especially when we measured just how well it outperforms all other manual AOI systems on the market today.
VeriSpector AOI provides instant feedback to operators to help eliminate the risk of failures and increase the quality and effectiveness of manual and semi-automatic manufacturing processes, delivering significant yield improvements. Although optimized for PCB Assembly tasks, the assembly station AOI module is also ideal for use in other disciplines.
Extremely short inspection times of < 5 seconds.
Perform real time assembly and placement inspection & carry out repairs on the fly.
Prevent defects before they move into the next step in the manufacturing process.
 A Camera Like No Other AOI System On The Market!
But any inspection system is only as good as its optics and camera system. In 1-shot assembly AOI's, the optics and camera are typically the achilles heel of the system, limiting the ability to achieve a decent resolution and contrast for stable defect detection under varying light conditions.
The VeriSpector takes manual inspection to a new level. It is available with a 24, 42 or 60MP Digital Single Lens CMOS camera with high resolution optical zoom lens. Unlike competitive systems, which mostly feature a small sensor video camera with a small fix-focus C-mount lens and LED panel lighting, VeriSpector is based on professional photograpy optics & delivers exceptional visibility with crystal clear resolution of fine details, even of intricate bar codes.

The resolution can be increased if a PCB size less than the maximum of 750×500 is required. Detected defects can be displayed via red circles on a PCB Map or by NG images.
Your own PDFs can be opened automatically to assist operators and guide them through an assembly task.
Professional photo cameras with APC-C or Full-Frame sensors (370-860mm2) and professional size lens openings. (video cameras have a typical sensor resolution of 43mm2 and small C-mount lens opening).
Automatic Image distortion compensation for accurate XY placement imports.
High dynamic range sensors, lens with matching high resolving power and contrast.
4 narrow-beam high lux lighting system, eliminates glare and reduces brightness for operators' Health and Safety, while achieving a very low influence of environmental lighting changes.
Ease of Use
We know that our customers look for systems that are easy to use with minimal training. And we deliver.
VeriSpector is easy to program while maintaining the power and speed of the renowned Mek inspection algorithms now used for many years within the PCB (Printed Circuit Board) assembly industry.
Connectivity & Traceability
VeriSpector is SMEMA compatible and powered by the powerful Mek 22X AOI Software with the Catch process control system which is proven every day on 6000+ installed Mek machines worldwide.
Easy Integration
VeriSpector THT AOI systems come complete as an easy to assemble package. Simply install the optical head with frame on the assembly station of your choice.  This frame holds all the system components; camera, lighting system, Apple Mac & monitor. Within a few hours you are ready to go.
Watch the video
Find Out More About VeriSpector