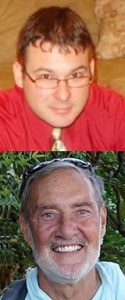 Mek (Marantz Electronics), has recently appointed two new people to form our next generation of leadership in the Americas region.
Cleve Williams joins Mek as Product Manager and Rich Heimsch takes on a new consultancy role assisting in the ongoing development of sales strategy and tactics for the Americas. Both Rich and Cleve will assume their roles effective immediately.
Cleve brings more than 18 years of experience to Mek with specialist experience in SMT Process and Documentation, Automated Optical Inspection & Solder Paste Inspection, including specific experience of Mek technology. Based in Central Chicago area, Cleve will share his time with Mek while continuing to work as Sales Manager for the company's Mid West representative organisation, Restronics. In this new split role he will have an ideal combination of technical and commercial responsibilities.
In his new role, Rich Heimsch will assist the Mek team with general Sales Management to steer business development and expansion of the Americas team and network. Rich has extensive technical and commercial experience having worked in the electronics industry since 1977 in a wide variety of senior international sales, marketing and operations roles.